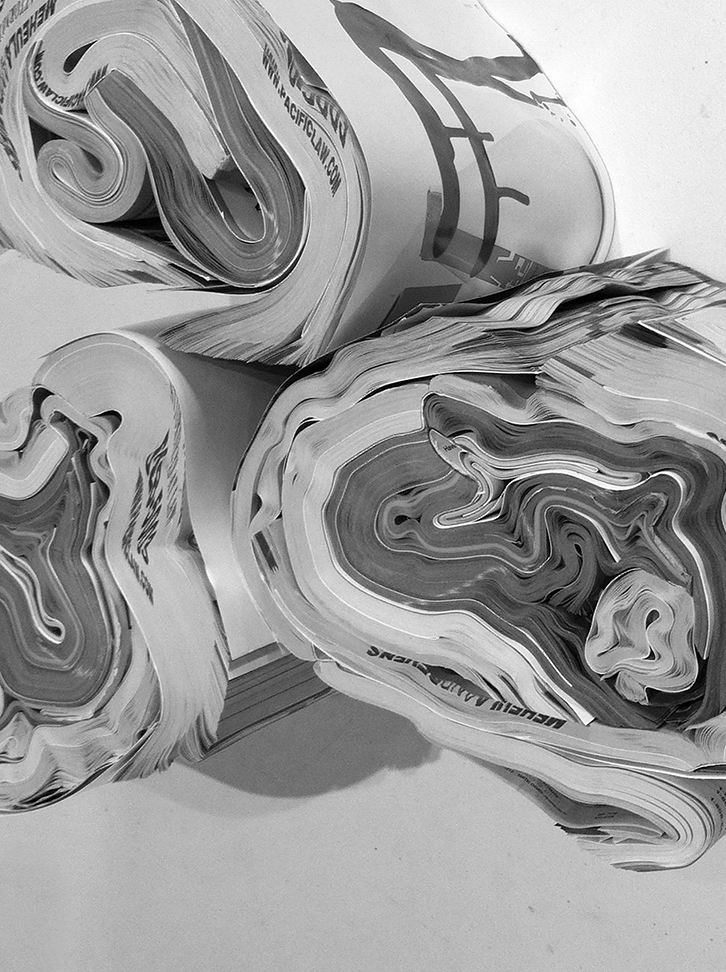 Island
Island was built out of Hawaiian telephone books that were donated to me from a Mapunapuna telephone directory outlet in 2012. This work continues themes from my 2000 VOLUMES series in which the books were soaked so that the fore edges would bleed. The forms were then dried out and screwed together. Island was exhibited in HAWAII ART NOW at the Honolulu Museum of Art
Prepping Paint Skins for Installation at Hambidge, GA
I'd started working with large-scale paint skins in 2007. However, with limited access to gallery spaces in Hawaii and focus on other projects for exhibitions this project was shelved. I was searching for a space that could highlight the work visually and conceptually and act as a springboard to continue themes in this work.
Fall Line(s) Painting the Landscape Series
Completed Installation in Spring House, GA. Inspired by the building and the surrounding landscape this installation utilizes large-scale paint skins to create a waterfall of paint that tracks and harmonizes with the interior mineral lines and stains of the Spring House.
Fired Landscape Book 2017
Created at Penland School of Crafts while experimenting with firing and glazing methods.
Pushing the medium while Artist-in-Residence at the University of Hawaii at Manoa in 2016. I was testing the material to see how much stress it could take in preparation for my site-specific work in Georgia in 2017. (3' tall paint skin)
Studio Shot. Made in China Series work in Progress
Working on "Whorl" at the University of Hawaii at Manoa
Whorl [In Transition] 2012
An early 'Whorl' Sculpture transitioning over time in its tree "host."
Working on an Installation at the School of the Art Insitute of Chicago.
Installation Model and Scale Design Prep
In Chicago at S.A.I.C. summer course prepping Installation works. Photo: Valerie Hegarty
Process Polaroid from Ex Libris
This is from my series of fired books in which I tested and fired hundreds of books in kilns to create this body of work for my thesis show (circa 1990s). University of Hawaii at Manoa
Clay Work
My background and university degree is in ceramics. Here is part of a large-scale figurative piece being built out of clay (in the greenware stage). While the foot looks like it might be modeled out of a solid piece of clay it is actually built with a pinch and coil technique into a hollow vessel form
Figurative Portrait in Clay
For some reason I destroyed this piece before glazing. In the background is part of a ceramic installation "Roots" in the which the forms are based on the tradition of "pulling" handles for cups
Roots [Ceramic Installation]
Circa 1990s. I was initially attracted to ceramics because of the range of seductive, earthy vessel forms and surfaces. After exhausting many of these rudimentary forms in my works I found myself exploring and challenging what "clayness" was and should look like. These "Roots" are about 8' x 5' and are based on the traditions of "pulling" handles for cups.
Ewer
A large fired ceramic vessel form from a series based on lava and Irish Neolithical symbolism (circa 1990s)